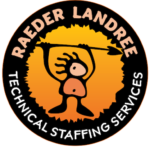 Raeder Landree, Inc.
Finders of Keepers
This job order consists of 3 individual positions. Reference which position you interested in when submitting your information. System Administrator – Active Directory administration , network support and troubleshooting, set up machines, etc. 4-5 years of experience. Customer Support – Excel at customer support. Be great on the phone. Do basic help desk support. Jr. Level Support Tech – Set up laptops, help desk support, system administration All positions are Contract to hire For now positions are remote. Selected individuals many need go into office a couple days a week even now.
Please attach resume or CV and indicate preferred contact information.